Tomasz Starzewski 'Rainbow' Cocktail Suit
fits Franklin Mint Diana Portrait Doll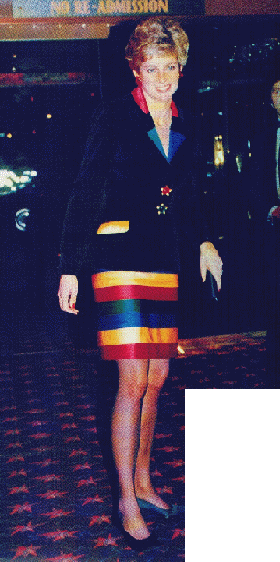 Diana first met the Polish designer Tomasz Starzewski when her brother Charles married model Victoria Lockwood in 1989 - Starzewski, one of the 'hot' new names in fashion, had designed the bride's wedding dress. A year later Diana visited his shop.

Starzewski initially felt sorry for the Princess. "She didn't have a gang of friends, and if you discount her public engagements, she actually didn't have much of a social life."(quoted in 'Diana, Her Life in Fashion', page 72). Her wardrobe needs primarily were for those royal duties, and he noticed that she was serious about following the dress code for the Royal Family - bright colors but conservative and tailored - but that also meant she was missing out on the lively, trendy clothing a lovely young woman of her age would usually be wearing. Pop and rock benefit concerts were the best occasions she had for 'fun' outfits, and this brightly colored cocktail suit, worn to a rock concert in November of 1991 in aid of the Chicken Shed Theater (a peforming company composed of disabled and physically challenged actors, singers and musicians, of which she was patron), was about as close as she would come in that period. It's a velvet jacket with multi-colored satin lapels and pockets that match the colors in the skirt, which featured the horizontal pleated 'stripes' that were one of Starzewski's trademarks.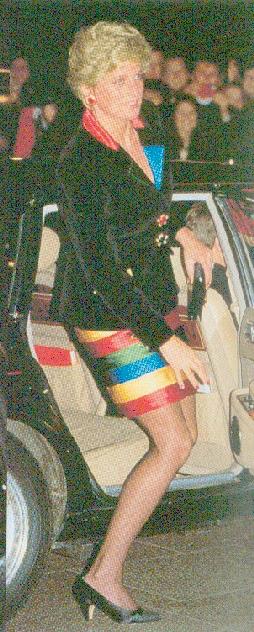 | | | | |
| --- | --- | --- | --- |
| | | This recreation consists of a microsuede jacket with multicolored polyester satin lapels and pockets, and multicolored rhinstone stud buttons on the front as well as the cuffs. The skirt is in matching polyester satin. Please note that the colored stripes in the skirt are actually pleated, as in the original, not just plain bands sewn together. Both jacket and skirt are fully lined in white to prevent staining. Includes black satin clutch evening bag and red rhinestone earrings. (The skirt colors are a bit brighter than they appear, they were washed out by the flash). | |
If interested, please e-mail. Thanks for looking!




Send Me Mail*

Back to Diana Fashion's Home Page*
(*click on the icon)
---
---