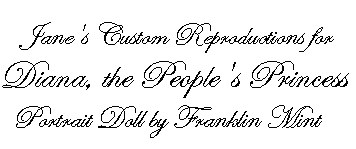 "My clothes are for the job." - Diana, Princess of Wales
"What mattered most was the work and that consisted of pleasing the people she met and attracting media interest to the causes she espoused. She could use clothes to further both objectives. ... (Diana) was never terribly enthralled by fashion. It was the power of clothes that interested her. She had an instinctive understanding of their role in creating an image, of their power to communicate ideas and feelings."- Brenda Polan, fashion editorof the 'Daily Mail' and 'Guardian', quoted in 'Diana, The Portrait', pages 210-211.
"She was a great silent communicator through her clothes." - Eleri Lynn, Curator of Historic Dress, Historic Royal Palaces, London
Reproductions for the Franklin Mint Kate Middleton Doll
"The way she got close to people
and went for the sort of charities and
organisations that everybody else was scared
to go near, such as land mines
in the Third World. She got involved in things that nobody
had done before, AIDS, for example.
She had more guts than anybody else."
-Prince Harry of Wales,
speaking of his mother
on his 21st birthday
"Everyone needs to be valued. Everyone has the potential to give something back."
-Diana, Princess of Wales

Farewell, then, Diana.
The agonies of the heart and anguish of the mind
were often your companions in life.
They were your teachers, too, for from them you learnt
understanding, compassion and kindness.
These are your finest legacy to us.
Thank you for all the joy you gave to many.
Thank you for being like the rest of us, flawed, but loveable,
and above all loved by God.
-Cardinal Basil Hume
At a Requiem Mass,
Westminster Cathedral


If interested, please e-mail for details. You are also welcome to request references. Thanks for looking!




Send Me Mail*
(*click on the icon)
Back to Home Page
---