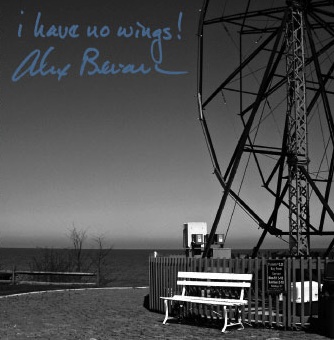 Alex Bevan Releases I Have No Wings July 31
Celebrates 21st Album with Nighttown Show on August 1
Cleveland: Alex Bevan has been a local icon – his guitar hangs in the Rock & Roll Hall of Fame,
his "Ho! For the Weekend" was a Friday at 5 staple on WMMS in the mid/late 70s –
since his "Skinny Little Boy" became a defiant drinking anthem/mark of local pride in 1976.
On July 31, the man who's opened for Odetta, toured with Steve Goodman
and done laundry on the college circuit with Jim Buffett releases
"I Have No Wings"
, his 21st album on his own Fiddler's Wynde Records.
"I have been a lot of places and met a lot of people," says the man whose lyrics have been reprinted
as editorial content in Newsweek and The Cleveland Plain Dealer.
"I wanted to gather up all this life, all the courage and strength I've seen
and try to build bridges to other music lovers who might need it, too."
Included in the 14 song collection is "Tired Pilgrims," Bevan's song of comfort in the wake of the Chardon school shooting
that became a national story and was reprinted in its entirety in
Michael Heaton's Plain Dealer Minister of Culture column,
as well as the sardonic jab at gas prices, profit margins
and the reality of getting by "Gas Can."
I Have No Wings returned the local folkie to Suma Recording, where he made perhaps his best known Grand River Lullabye.
Co-produced with Holly Gleason and engineered by Paul Hamann,
No Wings marks a return to character-based songwriting, introspection in search of
larger connections and finding encouragement in the people around him.
"You get to a place where you want to share what you've learned, the people who taught you by lesson or example.
It's the way wisdom was passed on in the folk tradition –
and I've been blessed by the woman in 'Strong Is What You Do,'
the lost friend in 'To Make It There,' especially 'Bear.' I wanted what they gave me to enrich others, too."
To mark the event, Bevan is playing an intimate show at noted listening room Nighttown,
12387 Cedar Road in Cleveland Heights, on August 1.
Tickets for 7 pm show are $10;
reservations can be made by calling 216-795-0550, FAXing 216-795-0531
or emailing nighttowncleveland@gmail.com.
"You make music for so long, you think you know…," Bevan says of I Have No Wings.
Then you make an album like this one and you find out what you're really capable of.
It's humbling, and awe-inspiring. And I know I couldn't have created it without all the wonderful people
who've been in my life and part of my hometown. It's only a year and a half since Fly Away,
but this is something else altogether –
and I can't wait to share this with all the people who've been there along the way."
For review copies or interviews, please contact divabilly@aol.com.
For more information on Alex Bevan: www.AlexBevan.com or his Facebook page.
To email Alex: alex99@ncweb.com